Congratulations to our New Jersey Seniors team on winning the 91st Annual Triangular Team Matches on October 16 at Essex Fells Country Club. The golf course was in great shape and played very long due to wet conditions and brisk winds. The weather had little effect on our team, as we prevailed by one point over Westchester (42 to 41), thereby snapping Westchester's three year winning streak. Long Island trailed with 25 points. Our squad was well-balanced as each player earned points that contributed to our victory. Setting the pace were Mike Brosnan (Knickerbocker), John Fitzgerald (Spring Lake) and Hal Garrity (Montclair), each of whom won all six points available in his match. Strong performances and point totals were also recorded by Rich Otterbein of Essex Fells (5 1/2 points), Phil Fabrizio of Knickerbocker (4 points), and Roy Pera of Rockaway River (4 points). Also playing and contributing to our victory were Bob Hunt (Raritan Valley), Jake Jacobus (Morris County), Rod Kerr (Manasquan River), Jim Lamb (Somerset Hills), John Masterson (Knickerbocker) and Matt Wirths (Baltusrol). We will defend our title next year on October 1st at The Blind Brook Club in Purchase, N.Y. Joe Pompeo will be taking over from me as Captain and, as always, our team will be selected based upon participation and tournament results. Congratulations again to our team on a well-earned victory.
Bill Frese
Captain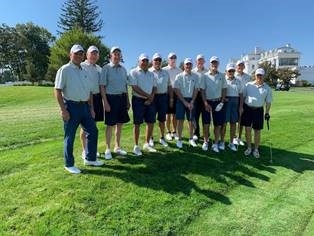 Triangular Match 2019
The 56th annual Triangular Matches against the Senior Golf Associations of Westchester and Long Island were held on October 2, 2019 under unseasonably warm conditions at the beautiful Old Oaks Country Club in Purchase, NY.

Our team played hard and with the expectation that we would retain the trophy we had won last year at Essex Fells Country Club. However, the players from Westchester prevailed. Our team was comprised of:

Jack O'Neill (Montclair)
Bob Hunt (Raritan Valley)
Roy Pera (Rockaway River)
Hal Garrity (Montclair)
Joe Bardon (Canoe Brook)
Brian Steller (Echo Lake)
Julio Baguer (Essex Fells)
Steve Lapham (Plainfield)
Nick Sapnar (Spring Lake)
Don Crowley (Upper Montclair)
Rich Keeley (Ridgewood)
John Yawger (Spring Brook)

Our point leaders were Roy Pera (5), Bob Hunt (4), John Yawger (31/2), Rich Keeley and Joe Bardon (3 points each).

In addition to the above competitors, eight trustees and past presidents played with members of the Westchester and Long Island Seniors Golf Associations.

Old Oaks Country Club and the Westchester Association were great hosts. The course and the clubhouse are among the most beautiful in the NY Metro area. If you get an opportunity to play there, don't pass it up.
Next year's matches will be played at the Meadows Brook Club in Jericho, New York on October 15th. Please save the date. We may need you to compete for the New Jersey Seniors.

Respectfully submitted,

Joe Pompeo, Team Captain