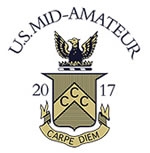 Player Information: U.S. Mid-Amateur Sectional Qualifying
Tuesday, August 22, 2017 at Scotch Valley Country Club in Hollidaysburg, PA
This notice serves as confirmation for U.S. Mid-Amateur Sectional Qualifying on Tuesday, August 22, 2017 at Scotch Valley Country Club. The qualifying round is 18 holes and the field is 23 players. The number of spots the field is playing for is one (1) and two (2) alternates. Please note the attached starting times and pairings, additionally starting times can be found at wpga.org in the near future. The starting tee will be hole #1. Additional information will be distributed on the starting tees.
Format—18 holes of stroke play. Play is governed by the USGA Rules of Golf. In the event of a tie, a hole by hole playoff will take place on holes to be determined by the Committee for qualifying spots as well as alternates.
Distance Measuring Devices are permitted for the qualifying round.
The "One Ball Rule" is in effect for the qualifying round.
Grooves conforming to USGA policy are required for the qualifying round.
Tee Markers—All play is from the USGA tee markers. The course will play at roughly 6,800 yards depending on conditions.
Pace of Play—The maximum allowable time for the stipulated round will be four hours and twenty minutes (4:20).
Practice—Practice rounds are available and must be scheduled in advance by contacting the golf shop at 814-695-1478. All practice rounds are at the discretion of the golf shop. Practice rounds are at a cost of $40 including cart and fees are the responsibility of the player. The golf course manager is Barb Cottrill. Practice range will open at 7:00 AM and balls are complimentary the morning of the competition.
Transportation/Caddies— Walking is required. The club does not offer caddies. Players may bring their own caddies. Caddies must walk in performance of their duties during the qualifying round. Push trolleys are permitted so long as they are trolleys that are the property of the club.
Food—The WPGA provides a continental breakfast prior to the round and water on the course. All other food and beverage charges are the responsibility of the player.
Footwear—METAL CLEATS ARE PROHIBITED--PENALTY IS DISQUALIFICATION.
Lodging—Lodging of various price ranges can be found in the Altoona area.

Spectator Info— No spectator carts will be permitted for the competition without pre-approved ADA verification. Please contact the WPGA office for ADA guidelines. ADA carts are based on availability.
Directions to the club can be found on the club website: http://www.scotchvalleycc.com
In the event a player needs to withdraw, please contact the USGA at Golf House. Dually notifying the WPGA is appreciated.