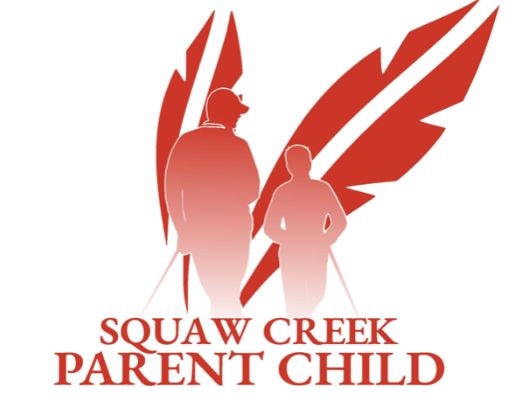 2023 Squaw Creek Golf Course
2nd Annual Parent Child Golf Tournament
Schedule Of Events:
Saturday June 17
7:30 - Registration
8:45 - Call to the carts
9:00 - Shotgun Start
1:30 - Scoring / Lunch
Sunday June 18
7:30 - Registration
8:45 - Call to the carts
9:00 - Shotgun Start
1:30 - Posting Scores / Awards Immediately Following
Rules:
Squaw Creek Golf Course
Child Golf Tournament
June 16-17
FORMAT: 2-person better ball (low ball format). Each player will play their own ball and the better score of the two will be recorded. Please enter the appropriate score / number on the card that is to be counted toward the team score.
TEES: Men (15-59) Blue Tees Senior (60-69) White Tees
Senior (70+) Gold Tees Women / Girls (13+) Gold Tees
Girls & Boys (6-9) Orange Cones Boys (13-14) White Tees
Boys & Girls (11-12) Yellow Cones
PACE OF PLAY: IF YOUR SCORE WILL NOT COUNT FOR THE TEAM SCORE, PLEASE PICK UP.
PLEASE MAINTAIN PACE WITH THE GROUP AHEAD OF YOU.
LIE: You may improve your lie 1 club length through the green. This is anywhere on the course except in a hazard or on the green.
OUT OF BOUNDS: Defined by the inside edge of all boundary fences around the course
WATER HAZARDS: All water hazards are to be played as a penalty area. 1-stroke penalty if you hit into the hazard and take a drop.
PLAYOFFS: Any playoffs will be decided by a scorecard playoff as recommended by the USGA, last 9, last 6, last 3, last hole format.
FLIGHTING: All teams will be flighted after Saturday's round.
BUMP RULE: will be in effect on the 2nd day – teams improving more than the predetermined number will be moved up in flights accordingly.
Meal: We will be serving a lunch on Saturday only for players only.
Thank you to our food sponsor The City of Willow Park for helping make this event a success.
Rules Committee: Chris McQuatters, Charlie Hahn, Jerry Gaston, Andy Hobson, Taryn Wolford